---
unlocking of the spine, joints,
Do you have a back pain, spine, or lower back pain?

Do you have problems with the intervertebral disc?

Do you have headache, neck or formic you limb?
Do you have feet pain, joints or muscles pain?

Do you feel tension in your muscles?

Are you after an a injury or after a surgery?

Do you have dizziness, sleep disorder, you are stressed, irritable or anxious?

Do you have chronic fatigue, sports, or hardly working?

Do you have high, low or fluctuating blood pressure.

Do you have digestive problems or other difficulties?
Are you pregnant?
Back to balance...
A simple step to health...
Your body deserves more...
Treat yourself and your loved ones...
"I am convinced that if my clients feel comfortable in their own body, this world can be a much happier and more peaceful place for their life."

"Your thoughts shape your body."
Men, women, all age groups are welcome. Children from 5 years of age and also women during pregnancy.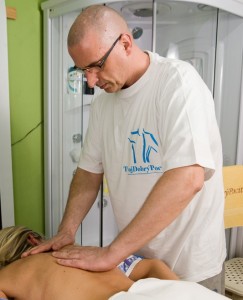 I am here every day for you. Do not hesitate to call and make an appointment
Mobile +421 948 495 264
E-mail: tvojdobrypocit@gmail.com
Gift Voucher
Treat your loved ones Validity of Gift Voucher is 3 mounths from the date of issue.


Season Ticket
When subscribing to 5 therapies/massages of your own choice the 6th is for free. Season ticket is transferable to another person and can by used as a gift. Validity of Season Ticket is 12 mounths from the date of issue.